Mel has been involved in yoga for over 15 years, focusing on vinyasa and yoga for children. She is currently in Phnom Penh, teaching weekly yoga, pilates, and TRX classes at The Shape Lab. Mel also offers private yoga and pilates classes, on location at the client's request, or online. Her classes focus on mobility and increasing range of motion to support general health and well being for people from all ages and fitness backgrounds. Children's yoga with small groups is also available upon request.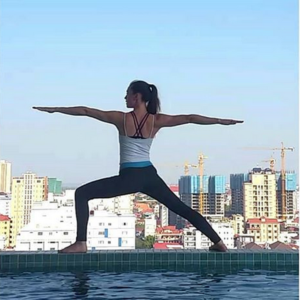 Sessions are catered specifically for the client. Depending on your goals and needs, each session may also include a dynamic full body warm up, circuit training, body weight exercises, light weights, stretching and mobility exercises, or simply a soothing yoga class to help you relax at the end of your day.
Tell me your goals and let me design a class for your body type and fitness level. Can't touch your toes? I can help. Sore neck and back from working at a desk? I can help there too!
Mel is also endorsed by YK Art House, Phnom Penh, supporting people in reaching their health and fitness goals! Read more here.
Are you looking for Mel Nutter as Baudelaire? Click through to melnutter.com for all her aerial adventures!